Quinoa Chicken Salad With Currants
katii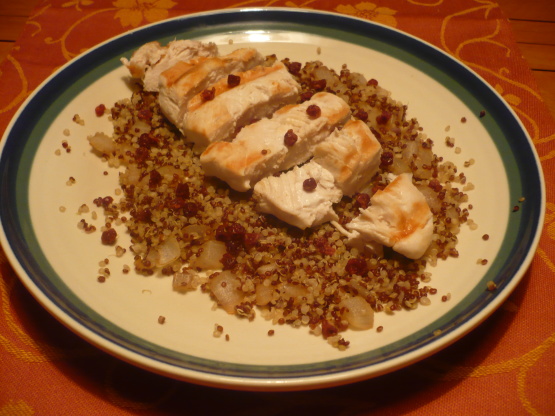 A delicately flavoured dish using the unique quinoa grain. Try using half red quinoa and half white.
Combine quinoa, chicken broth, and pepper in a pot and bring to a boil.
Lower heat and simmer for about 10 minutes until liquid has been absorbed.
Meanwhile, caramelize the onion in a small pan with the oil and sugar.
Stir caramelized onion and lemon juice into cooked quinoa, and let sit on low heat, stirring occasionaly, for about 10 minutes to allow flavours to blend.
Lay the quinoa on a serving plate.
Slice the chicken and lay overtop the quinoa.
Sprinkle currants overtop.
Enjoy!