Quinoa Barley Vegetable Pottage
Busfault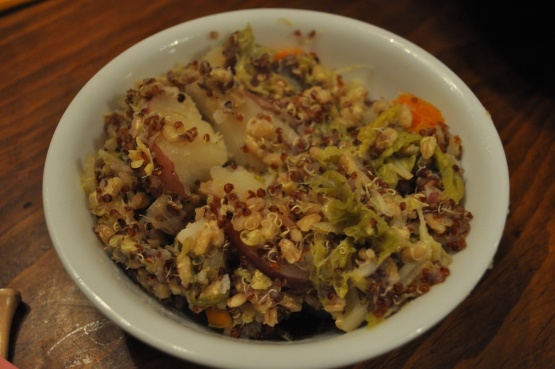 Vegetarian dish with earthy vegetables with quinoa and barley. This started as a stew and cooked a little too long causing the water to evaporate. It is quick and simple, cheap to make and delicious.

Bland as cardboard...would be much better if some seasonings were part of the recipe. I'm new at this kind of stuff, and after botching a couple of things by "being creative", I pretty much stick with the recipe!<br/><br/>Any suggestions? My wife and son are going to see what they can do with it.
1

quart vegetable stock

4

quarts water, vary ratio with vegetable stock to taste

1

cup quinoa, prep as needed

1

cup pearl barley, prep as needed

3 -4

red potatoes, No 1s, washed, not peeled, cut into 1 inch cubes

3 -4

carrots, washed, not peeled, cut into 1 inch slices

1

parsnip, washed, not peeled, cut into 1 inch slices

2 -3

green onions, washed, cut small slices, include greens

1

leek, washed, cut slices, include greens as desired
1⁄2 head cabbage, washed, torn into pieces
Put Vegetable stock and water into 8qt pot and start heating on high.
Prepare Quina and Barley as needed, add to pot and bring to a boil.
Reduce heat to medium and cover for 4-5 minutes.
While waiting, prep other ingredients adding them to the pot in the order of Potatoes/Carrots/Parsnip then Cabbage then Onions/Leek. This should help ensure they finish relatively the same time.
Make certain there is enough liquid in the pot at this time such that vegetables are covered.
Reduce heat and cook covered for roughly 20-25 minutes stirring periodically until vegetables are soft and there is very little liquid left.