Debbwl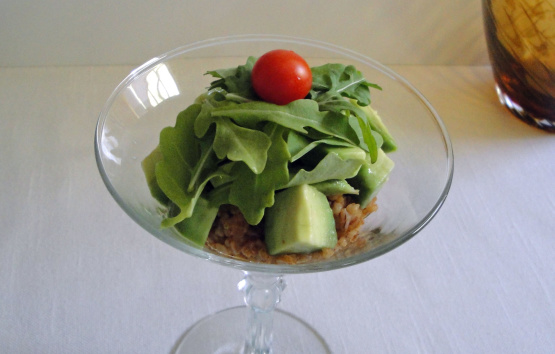 The verrine trend took France by storm several years ago and the trend is still alive and well! They are made by layering ingredients in small glasses. This is a great appetizer to serve before a hearty meal. You may use regular or red quinoa(or steamed couscous or bulgur). Adapted from Vegetarian Times magazine.

Top Review by Debbwl
I can see why these healthy little appetizers took France by storm as they are just right for taking the edge off your appetite and the recipe is extremely easy along with being very versatile. I made ours using the bulgur option and arugula. We really like the bulgur cooked in chili powder and the light tang of the lime. I used a cherry tomato for garnish in the photo but will next time use lime wedges for garnish as we squeezed just a little bit of fresh lime over the arugula. Thank you for the post.
Bring the quinoa, 1/4 teaspoons chili powder, and 1 cup water to a boil in a small pan.
Cover, reduce heat to medium low and simmer 12-15 minutes, or until most of the liquid is absorbed.
Whisk together 2 teaspoons lime juice, oil, and remaining 1/4 teaspoons chili powder in a bowl. Add the quinoa, and toss to coat thoroughly.
Season with salt and pepper if desired.
Divide quinoa among glasses. (The recipe can be prepared up to this point; cover, and chill up to 24 hrs.).
Dice avocado, season with salt and pepper if you wish and toss with Tabasco sauce and remaining 1 teaspoons lime juice.
Divide avocado among glasses and top each with a pinch of sprouts.
Serve immediately, with small forks or spoons. Enjoy!