Katzen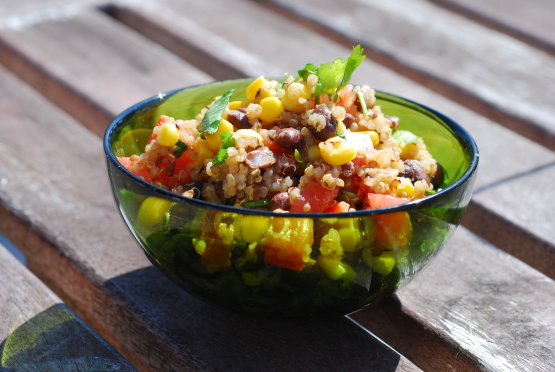 Fast,super healthy, delicious. This is great as a side dish or a main meal. I take this for lunch for work all the time.

Top Review by Katzen
As promised, this is a delicous, healthy, and quick meal. I toasted the quinoa first, to remove the bitter taste, and then followed the recipe along. These flavours work so well together - the only thing I plan to add is a chopped jalapeno, for a little bit of kick. Thanks for posting! Made for Spring PAC 2010 - you were adopted!
1. To make the dressing, combine lemon juice, olive oil, cilantro or parsley, salt, and pepper. Set aside.
2. Boil the water in a small saucepan and add corn; reduce heat and simmer until corn is tender. Drain, reserving 1 cup cooking liquid.
3. Return cooking liquid to the saucepan and bring to a boil. Add quinoa and cumin; cover and simmer about 10 minutes, until liquid is absorbed. Remove quinoa from heat and set aside 5 minutes. Fluff quinoa with a fork and transfer to a salad bowl; cool slightly. Add corn, black beans, tomato, and onion to quinoa. Toss with dressing and chill.