Quinoa and Black Bean Salad
LisaAD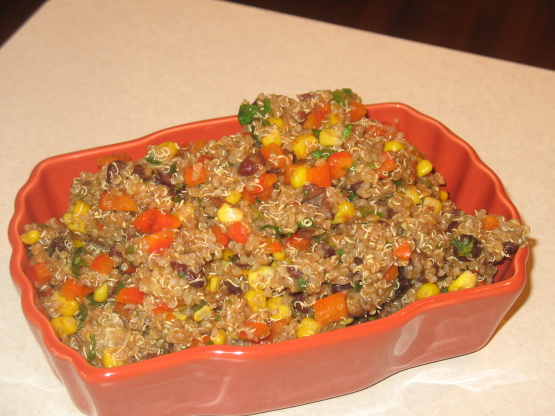 A very festive dish! The flavors blend nicely together. It's a wonderful alternative to rice or couscous. The Quinoa seed is considered a supergrain and an almost perfect protein. You could easily reduce the amount of olive oil in this dish to bring down the fat content. The original recipe says it serves 4 to 6, however, its more of a crowd pleaser. I would say you could serve 10 with it easily.

This salad is delicious. I served it as side dish with salmon, and the next day had it chilled for lunch. It was quite refreshing as a lunch salad. I used chicken broth for the quinoa. The next time I will probably add a bit more cumin.
Wash the quinoa in several changes of cold water, until the water runs clear, and then drain well. Heat 2 tablespoons of olive oil over medium in a saucepan. Add the drained quinoa and cook, stirring frequently, for 4 to 5 minutes. Add 2 cups of water and bring to a boil. Reduce to a simmer, cover, and cook until all of the water is absorbed and the quinoa is cooked (10 to 15 minutes.).
Transfer the quinoa to a large bowl and allow to cool. Add the beans, corn, bell pepper, jalapeno pepper, and cilantro and toss well. In a small bowl, whisk together the lime juice, cumin, garlic and salt. Add the remaining 1/3 cup of olive oil in a stream while whisking. Drizzle the dressing over the salad and toss well. Add salt and pepper to taste. Serve right away or keep covered in the refrigerator overnight (bring to room temperature before serving.).