Cabnolen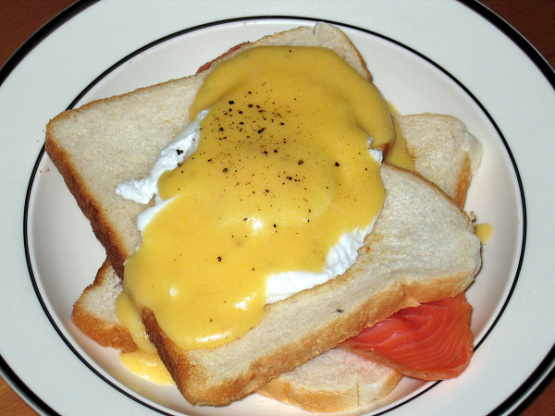 This is the sauce you use for Eggs Benedict. You may also use it on asparagus or broccoli.

I melted butter. Put egg, lemon juice, & salt into sm. saucepan on low heat. Whisked while heating til sauce started to thicken. Added butter in stream and whisked more til thick. No need for dbl. boiler, blender, beater. Yummy. Makes enough for 3 or 2 sauce lovers. I'll be making this again and again.
Warm the jar of an electric blender with HOT water.
Empty completely and dry.
BE SURE butter is melted before you start,as this method requires FAST movements.
Quick-Blend--egg yolks, lemon juice and salt.
SLOWLY add melted butter in a steady stream.
Turn blender off when the last drop of butter is added.
May double, triple or more this recipe.
Serve on Eggs Benedict, asparagus or broccoli.