Bergy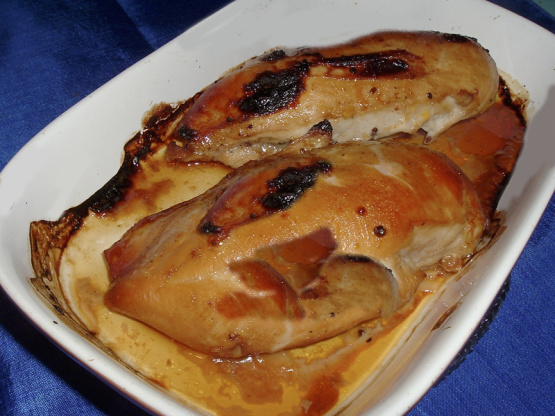 Quick, easy & good. This was oriinally a Kraft recipe called "Muskoka Chicken". I played with it a little but it is still very close to their recipe If you want to cook even faster pound the breasts before putting them in the marinade and then pan fry - watch they don't burn. Marinade time not included in the cook time

I used huge breasts and finally ended up cutting 2 into 4 portions to even up the proportions. They were so tender, and the hint of orange and ginger gave them a flavor that was subtle but unusual. Serve with jasmine rice and snow peas for a simple, quick, but tasty meal. Thanks Bergy, for posting this!
Mix all the ingredoents, except chicken in a large zip lock bag or dish large enough to hold the chicken in one layer.
Put chicken in the marinade and refrigerate
Turn to coat chicken evenly a couple of times.
Marinate at least 1 hour but better yet overnight.
Remove from the marinade and BBQ over medium heat until cooked through apprx 25 minutes or do in the oven either under the broiler or center oven 350 apprx 25 minutes.
Cooking time depends on the size of the breasts.