Prep 15 mins
Cook 15 mins

Easy to make with staple ingredients, these scones are wonderful for breakfast or with a nice cup of hot tea or coffee. The recipe came from a cookbook called "Stand By Your Pan: Country Music Cookbook" by Diane Pfeifer. Her funny alternative country-music-inspired title for the recipe is "Diggin' Up Scones" :)
Directions
Preheat oven to 400 degrees. Grease a large baking sheet.
Sift together the flour, baking powder, baking soda, and salt With a pastry cutter, cut the flour mixture together with the cold margarine and brown sugar until well blended.
In a small bowl beat together the yogurt and 1 egg. Pour into the pastry mixture. Add raisins and stir just until mixed.
Drop by rounded 1/4-cup measures onto the prepared baking sheet. Beat remaining egg and brush onto tops of scones. Bake for 12-15 minutes. Serve warm.
Reviews
Most Helpful
Photo may be seen here (in the Savor gallary): www.annacia.com. No doubt about it, these yummy scones are quick to make. Instead of the raisins I added a very healthy tbsp of Extreme Dark Drinking Chocolate to the dry ingredients. I should say too that I used a very thick Greek yogurt and needed to add about 2 tbsp of milk in order to get everything mixed. I had no problem with the soda coming through to strong and I think you need it if baking with yogurt, buttermilk and such. They came out delicious. :D

I usually make scones with heavy cream, so I was anxious to try this variation. Although I made minor changes (but not to the ingredients), the result was delicious. First of all, I mixed the dry ingredients in the food processor, added the butter and brown sugar, and pulsed some more. I then added the yogurt mixture and pulsed again, adding the raisins last. Then, instead of cutting rounded scones, I patted it into a large circle and cut it in 8 wedges. I ended up with some pretty large scones (but no one's complaining)! Also, instead of brushing with egg, I brushed with a little milk and sprinkling a dash of sugar on top. They browned up very nicely. Thanks for sharing this neat treat. Made for Aussie/NZ Recipe Swap #65.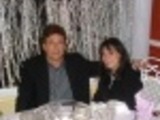 After reducing the recipe to 6 servings, adding a little cinnamon, and using vanilla flavored yogurt, these scones came out perfectly!