Quick White Bean and Spinach Soup
Ms B.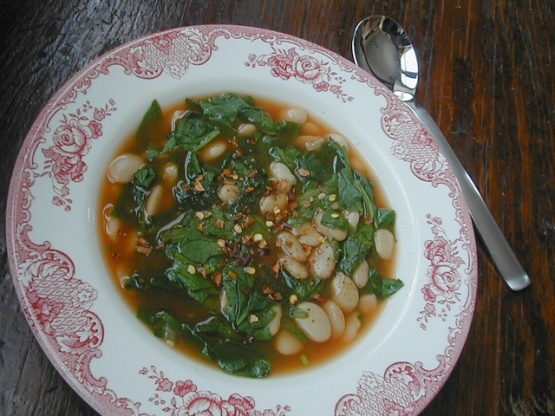 This is a quick South Beach Diet friendly soup. It is brothy, but the beans are very filling. I adapted a recipe from the cookbook to suit the ingredients that I had on hand.

I love this soup - make it all the time since I discovered it. I usually double the recipe and it holds fine for a few days of leftovers. Barely lift a finger to make it - I call it lazy woman's soup.
Bring the chicken broth to a boil in a medium pan.
Add the spinach and allow to boil for a bit and wilt down the leaves, stirring often.
Reduce heat and add the rinsed and drained beans, roasted garlic, and V-8 juice.
Simmer gently for 5-10 minutes.
Season with salt, pepper, and red pepper flakes, to taste.