Quick Whipping Cream Biscuits
diner524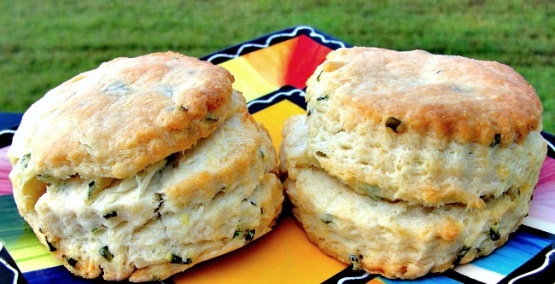 Another quick and easy Southern Living recipe. Haven't tried them yet, but they sound delicious. Due to the richness of these biscuits, they are probably best kept for holidays and special occasions. This recipe makes two dozen biscuits, so feel free to halve or quarter the recipe.
Wow!!! Talk about any easy and oh so tender biscuit!!!! I made 1/4 of the recipe and then the only other change I made was to add about 1 tablespoon of chives, as I have found that I love chives in my biscuits. My oldest sister is here vacationing this week and she also loved them. Thanks for sharing your recipe. Made for the Southern US region of our Culinary Quest Event.
Cut 1 cup butter into flour with a pastry blender or fork until crumbly. Add whipping cream, stirring just until dry ingredients are moistened.
Turn dough out onto a light floured surface and knead lightly 3 or 4 times. Roll or pat dough to 3/4 inch thickness.
Cut with a 2-inch round cutter, and place biscuits on a lightly greased baking sheet.
Bake at 400 degrees F. for 13-15 minutes. Brush warm biscuits with 1/2 cup melted butter.