buzzsau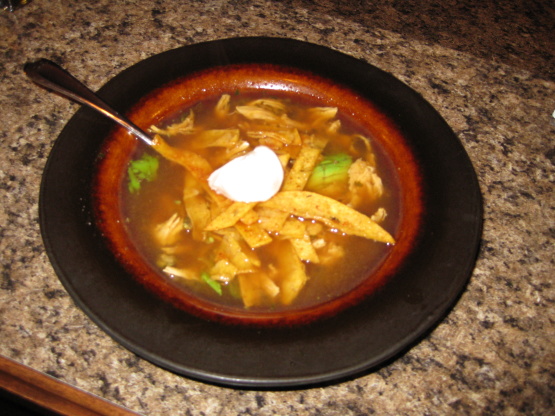 This is a version of Emeril's quick tortilla soup. Easy tortilla soup with chicken broth base!!! Very yummy! I can't find fresh poblano chiles so have been using one Penzey's dried ancho pepper, seeded and chopped. Also have been using 4 tablespoons dried onion and 1-2 teaspoons garlic powder if fresh not available. If you have fresh cilantro, use 1/4 cup chopped in place of dried. The seasoning for the tortilla strips is #rz.243095. It is Emeril's creole seasoning recipe.
In dutch oven or stock pot, heat olive oil and add onions, garlic, poblano pepper, salt, cumin and coriander and cook for 5 minutes.
Add tomato paste and cook for 1 minute.
Add chicken broth, chicken, cilantro and lime juice.
Simmer for 20 minutes.
Bake tortilla strips sprayed with Pam and sprinkled with 1 teaspoon Emeril's Essence at 350 degrees for 5 to 10 minutes or until crisp.
Ladle soup into bowl and top with baked tortilla strips, avocado and chipotle/sour cream mixture.