lazyme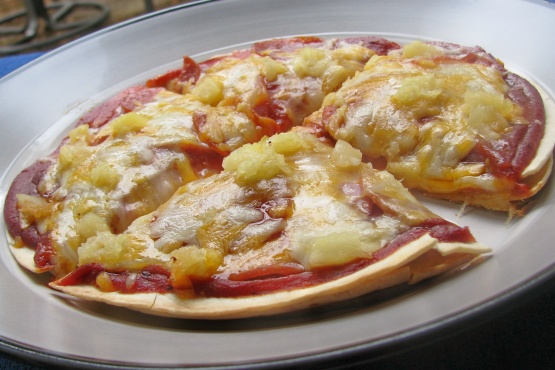 These pizzas are very family friendly. I use the small tortillas for the kids to make their very own individual pizzas, and large ones for me and my hubby to come up with our own creative masterpieces.My favorite is with sundried tomatoes, marinated artichoke, black olives and smoked provolone cheese.:-)Enjoy!!

I'm pregnant, it's 10 am, and I need pizza NOW but don't want or need a ton of extra calories. This recipe was perfect for my needs! I made it very simply by cutting a large tortilla in half for 2 layers, spraying the bottom with spray (genius!), putting a little Mexican cheese between the layers, and topping it with pasta sauce (I know, it's lame, but it's what I had), spinach, and mozarella cheese. I put it on the tray in a toaster oven for about 10 minutes and then removed the tray and put it directly on the rack for about another 10. The "crust" is perfect! If I had time to fancy up my sauce, chop some garlic, or get more creative with my toppings, this would be beyond fantastic for those who like thin crust pizza. Thanks for sharing.
Heat oven to 375 degrees.
Spray bottom of first tortilla with non-stick cooking spray.
This will help tortilla to crisp on bottom.
Lay sprayed side down on cookie sheet.
Sprinkle a small amount of cheese on top of tortilla, just enough to help tortillas stick when cooking.
Top with another tortilla,sprinkle with cheese,top with tortilla.
Layer as many as you wish, I generally only use 3 to 4.
Top last tortilla with pizza sauce and toppings of your liking.
Bake for 15 to 20 minutes or until golden brown.
Cut with pizza wheel into wedges.
Enjoy!