Quick Tomato Shrimp Stew Florentine
vrvrvr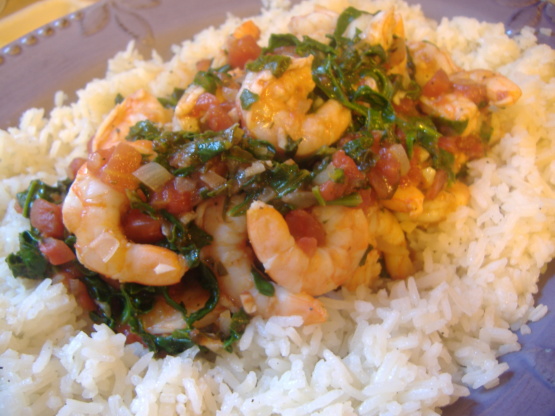 This is a quick dinner for my sons and myself. It is based on our love of shrimp and spinach. I came up with it one night when I just wanted something a little different than our usual scampi.

Top Review by vrvrvr
We'd give this more stars if we could! Absolutely wonderful shrimp dish. I used fresh spinach (which I sliced into strips) and fresh basil (generously), and a pinch of cayenne pepper because I didn't have crushed red pepper flakes. I served this over jasmine rice. Our family loved this! We would happily make and eat this again; thanks for a great recipe!
Heat olive oil over moderately high heat. Saute onion and garlic for 3 minutes, until limp and fragrant.
Add the tomatoes, basil and red pepper. Bring to a boil. Add frozen spinach and boil for 5 minutes.
Add shrimp and cook until shrimp has cooked through, about 5-7 minutes depending on the size of the shrimp.
This is good served over rice or any grain of your choice. It also good with crusty bread and a salad.