Quick & Tasty Veggie Stir Fry Sauce (Uses Braggs)
katew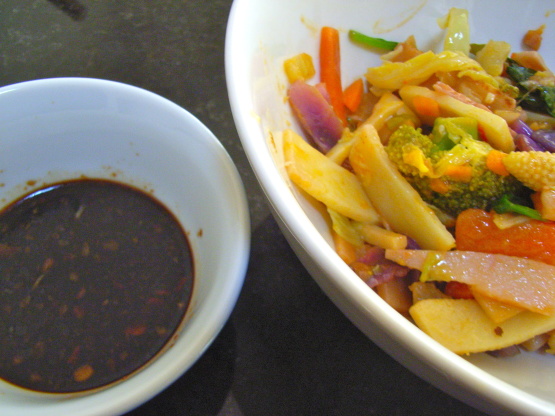 This is just a little recipe off the side of a box of silken tofu (Mori-Nu). I didn't care for the entire recipe, which involved broiling the tofu...far too much effort to put the oven on when you're planning to stir fry. What I did like about the recipe was the sauce - quick and simple for those days when you don't have time to mess around with too many ingredients, but still don't want to open up a packaged sauce. You can thicken up the sauce if you choose, or add some heat if that's what you're going for. As this has honey I can't say it's vegan, however I think you could sub agave or some other sweetener quite nicely (brown rice syrup??). Let me know if you try that. The original recipe said it was enough for 4, but if I was making it for 4 adults I would probably double it which is why I said it serves 3. Enjoy!

This was really delicious! I used it in a stir fry of noodles, veggies, eggs, peanuts, and edamame, and it went really nicely. I was tempted to add some crushed chiles but forgot, and I'm glad I forgot because this has a lot of flavor that I might have missed had I added lots of heat. I love the garlic and ginger combo! My only complaint is that it was a touch salty for my tastes (which I NEVER say!) so next time I will add it to a bigger stir fry or leave out a T or two of Braggs. I did thicken the sauce using about 1 T flour and a few T water. Thanks for posting! Made for Veg*n Swap #21.
6

tablespoons Braggs liquid aminos (or sub your favourite light soy sauce)

2

teaspoons honey

2

teaspoons balsamic vinegar

2

tablespoons grated fresh ginger
1⁄2 teaspoon sesame oil
Blend the ingredients together, and presto, you have sauce!
Stir fry as you normally would -- if the sauce is too runny for you, likely depending on the veg you put in or if you used some frozen veg -- stir together about 1 tbsp of arrowroot powder (or cornstarch etc) with a few tbsp of water in a little dish, then mix that into the pan. Sort of push your veg/tofu to one side of the pan and try to mix it in well with just the sauce so you don't disturb your veg too much. Once it has thickened a bit then coat all the veggies in it.