Quick & Tasty Rice Fritters
COOKGIRl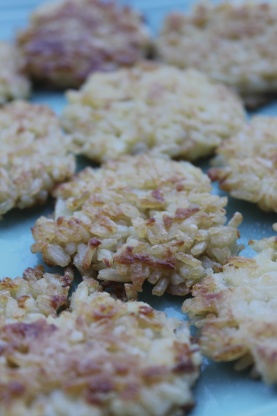 "This tastes similar to latkes but even easier to make as there is no peeling involved. Double as needed." This is a perfect way to use up left over rice. Modified from http://www.sarahmelamed.com.

Quick, tasty and economical! To make I used leftover long grain brown rice. I only added half the amount of onion because my main dish had onion (forgot!). Subbed arrowroot in the batter. Melted a little bit of butter with the oil and fried each side about 5 minutes then transferred the fritters to a paper towel-lined platter to soak up the oil. Tip: I lightly sprinkled flour in the pan using a fine mesh strainer before adding the batter and that worked out for the fritters to not fall apart as easily. Once they were flipped over I sprinkled more flour just before adding the spoonful of batter equivalent to 1 heaping tablespoon. Served with Recipe #464247, fresh steamed veggies (broccoli, yellow squash, carrots) and leftover cole slaw. Good meal! Thanks for posting! Reviewed for Veg Tag/August.
Combine all the ingredients except for oil and mix well.
In a pan, heat oil for shallow frying.
When the oil is hot, add a tablespoon of batter, pressing down slightly to form a flat fritter.
Fry one side until golden and flip. If there are too many holes in the fritter, add more cornstarch to the batter.
Drain fritters on paper towels to absorb excess oil.
Serve with salsa, tzatziki or anything else that has a zesty fresh flavor!
Enjoy!