Parsley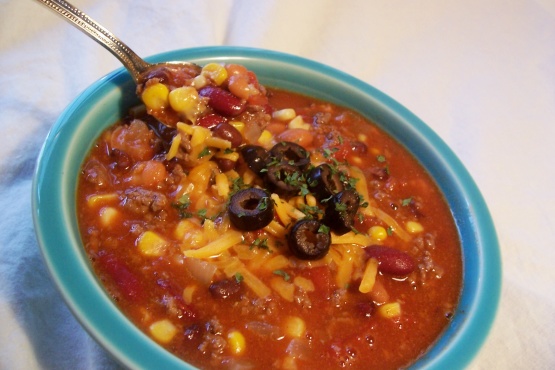 Wonderful for winter potlucks and buffets. I've had to give the recipe so many times that I just keep a copy on my Outlook notes!

We love this soup. I cut the meat to one pound (we are not big meat eaters). I also didn't use pinto beans. I rinse the beans thoroughly (I think they are somehow less gas producing that way). We add a dollop of sour cream into each bowl and mix it in for a little creamier texture. Everyone loves it including the kids...I cut the green chilies for them, but I know my DH and I would like it better with the chilies! <br/><br/>Thanks!
Brown the meat and onion.
(Meat is optional) Add to a large pot with all the canned items.
Add the water and dry package ingredients.
Stir until well mixed over a medium heat.
Cook until hot (about 15-20 minutes).
Serve in soup bowls topped with chopped onion and grated cheese.
Serve with corn chips and other toppings on the side.