Quick Spinach and Mashed Potatoes
-Sylvie-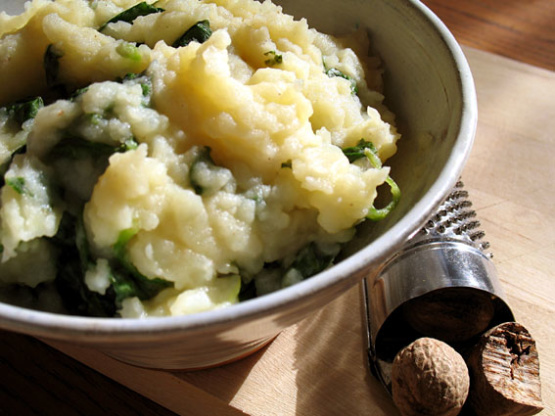 This was special comfort food my mom made for my brother and myself. I just took it a couple of modern steps forward to make it easy...still just as tasty!

This is quick and easy to make and tastes good. I didn't have any jars of baby spinach, so I just quickly sauted some fresh spinach before adding it to the potatoes. i have always loved the spinach, poato and nutmeg combination so I knew I'd enjoy this. thanks for sharing. :D
Peel and large dice the potatoes.
Place in large pot, add enough water to cover potaotes by two inches. Bring to a boil, turn down to medium and cook until fork-tender.
Drain cooked potatoes and return to hot pot. Turn heat to lowest setting.
Add butter and mash well or leave with small lumps.
Combine rest of ingredients and blend. Heat through.
Serve hot.
This makes a nice lunch. Serve with chilled sliced beef tomatoes topped with salt and pepper to taste and sprinkle with grated cheese as desired.