Quick Snack Cheese and Jalapeno Quesadilla
Boomette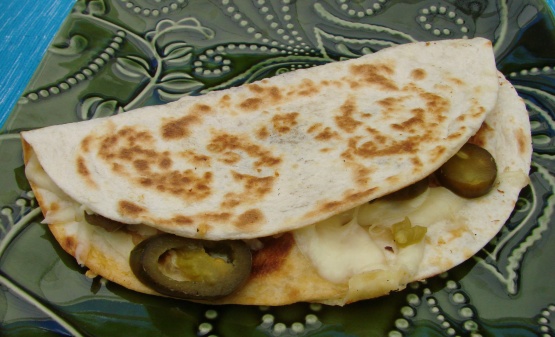 It always makes me laugh when I hear people saying Jalapeño with 'J' and not a 'H' sound. It reminds me of days gone by when I used to say it! Whatever the case these are just gorgeous, the heat of the Jalapeno cooled by the cheese against the foil of the crisp tortilla is just perfect
1

large flour tortilla

75

g grated cheese

8 -12

slices of pickled green jalapeno peppers
cooking cooking spray (for frying)
Heat a large frying pan over a medium heat and spray lightly with cooking oil.
Cook the tortilla until lightly browned on 1 side and take off the heat.
Flip over and cover the bottom half of the tortilla with the cheese and jalapenos and then fold the top half over.
Using more spray oil, cook the now folded tortilla on both sides until the cheese has melted and the tortilla is golden brown and crisp.
Cut into 2 or 4 slices and serve with sour cream or salsa.