Quick & Simple Green Pea & Cheddar Salad
Boomette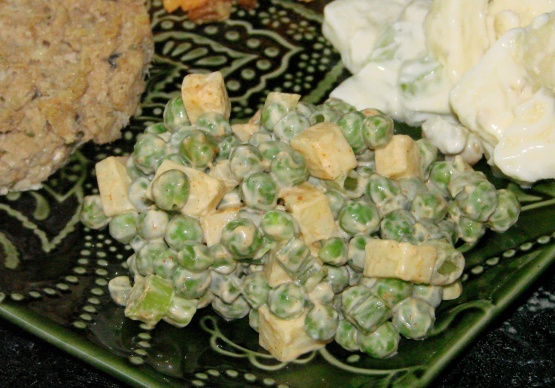 This is the simplest recipe for pea salad. My mom use to make this for us when we were growing up, now I make it for my family and everyone enjoys it. It only takes a few minutes to throw together, but adds a nice touch to many meals, especially bbq's and family gatherings. I prefer to make this with green onion, but I have used white onion, or even no onion, depending on what I have on hand. I hope you enjoy the recipe.

Top Review by kmakhl
This dish is sold by the lb at our local gourmet grocery store's deli counter. I loved it so much I had to search online for the recipe. This is the recipe I use and it is the one tasting just like the one sold at our store. Use petit peas, and extra sharp Cheddar in small diced pieces. Don't add bacon it's too many flavors.
Mix the frozen peas with the mayonnaise and paprika, stir to combine.
Add the cheese and green onions and stir until the cheese and onions are coated with the mayonnaise.
Garnish with a sprinkle of paprika and enjoy.