Quick Sausage Stuffed Acorn Squash
amyjorom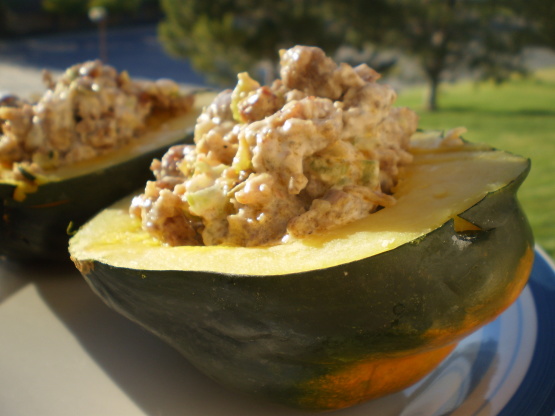 This is a stick to your rib meal that is quick to fix in that you can use the microwave to cook the squash. It comes from Quick Cooking magazine.

I was getting ready to post a similar recipe, but baked at 375 for 45 minutes instead of microwaved. My recipe has 1 cup mushrooms, 1/2 cup celery and 1/4 cup scallions, and 1/2 cup sour cream and 1/4 cup grated Parmesan. After the veggies, sour cream and parmesan are stirred into the sausage filled into the squash it bakes 10-15 more minutes. Also, if you have trouble cutting through the hard squash, as I sometimes do, I've found it helpful to put the acorn squash in the oven whole for 5-10 minutes, which will warm it up enough to soften the outer rind so that you can cut it. It is probably a good idea to set it on a cookie sheet or in pan in case there are any pricks in the rind that might ooze a little liquid.
Cut squash in half and remove seeds.
Place squash cut side down on microwave safe dish with 1/4 inch water and microwave on high for 10-12 minutes, or until just tender.
Meanwhile, crumble sausage into large skillet and add celery and onion.
Cook over medium heat until meat is no longer pink, drain.
Remove from heat and stir in sour cream.
Spoon sausage into squash halves.
Cover and microwave on high for 1 minute or until heated through.