Boomette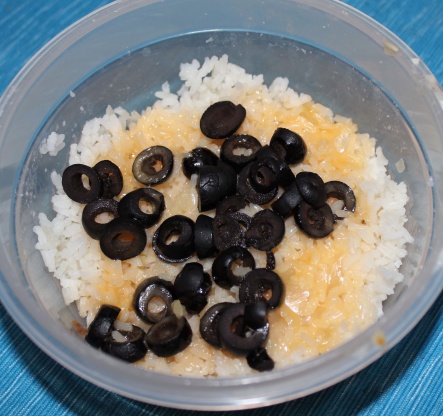 This is a dish I put together that was quick to make and was easy to take to work for lunch. Perfect for those of us who don't have a lot of time to make lunch.
I made this rice for my son. I asked him if it was ok that I put the slice of cheese because he likes this cheese. But melted with the rice, he didn't like. He ate a few bites of the rice and all the olives. So next time I'll omit the cheese. Or maybe use cheddar cheese. Thanks bonitakika :) Made for Bargain Basement tag game
Place the rice, water and onion flakes in a microwavable container (sandwich containers are the perfect size).
Cook rice in microwave. I've found the best way to do this is to microwave on high for 2 minutes. Let stand for 5 minutes. Then microwave on high again for 2 minutes. (time would depend on your microwave).
After rice is cooked, place 1 slice of American Cheese on top of rice.
Top with olives.
This recipe travels well and re-heats very well. I take it to work and re-heat it in a microwave for 2-3 minutes. Make sure the cheese melts.
I've never made this recipe to eat right away. I'm sure it would taste just fine either way.