Quick Ramen Tuna Noodle'o
I'm the only one in the house that likes tuna noodle casserole so I used Ramen Noodles & came up with a great tasting,quick dish without a big pot of leftovers. This dish is so good that even my 'food-pickiest' dachshund "Hansel" loves it! Ramen is versatile. Go ahead, EXPERIMENT!
Directions
In deep cereal bowl, add water.
Break up the noodles before opening.
Add seasoning packet & noodles to water.
Microwave Hi 4-5 minutes. *Caution! HOT*
Add Tuna, Parmesan, Butter, Pepper.
Stir well.
Enjoy!
Reviews
Most Helpful
It's too good. I added some cayenne. May never eat ramen regular again. And, dude, tuna? Healthy. Amiright?
Oh this is good, I love ramen noodles but tired of the same way to eat them, so I came on here and found this was a bit unsure but wow this is so good, quick and easy to make.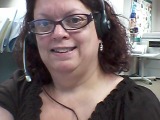 YUM! I made this for my 9 yr old not expecting much but tried a bite before giving it to him. Did this just to review the recipe fairly! :) Wow! Delicious & super simple. Thx for sharing!!! Will make again.