Sara 76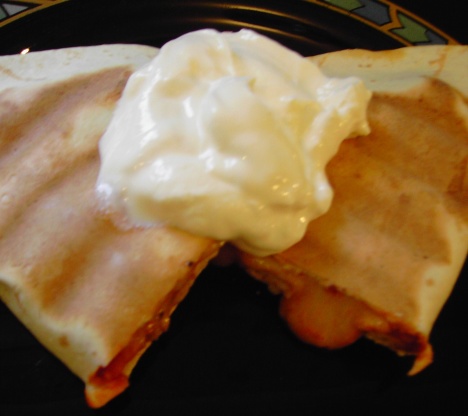 These are fast and better than anything you could get at any restaurant! They look great when placed on a foreman grill...that's the secret! I have always had to make extra because these go pretty fast!

This was a WONDERFUL meal! Somehow I made a mistake and purchased the Taco Bell Fajita seasoning, but it was fine. I also added about 3 TBS of taco sauce to the ground beef. I have made this now for three days since last week. It is a hit. I also made this with deli turkey, salsa conqueso and shreeded cheese for breakfast. Shauwan
First, cook your ground beef or chicken through. If using beef, crumble. If using chicken, shred. Add taco seasoning and let simmer until done.
Warm tortilla shells either in microwave or oven just until slightly warm.
Spread whole tortilla with salsa con queso.
On one half, add meat and shredded cheese.
Fold tortilla and place in a Foreman grill for about 2 minutes.
Let stand about 1 minute before cutting in half.
Serve with sour cream.