I found this recipe on the Country Door website and since I love pumpkin cookie recipes, this was very different from any I had seen before. I am putting it on zaar for safe keeping.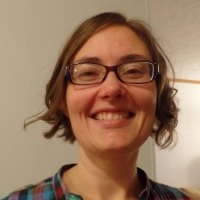 These turned out to be pretty good cookies. I only had a 15.25 oz cake mix, so I added enough flour to reach 18 oz. I omitted the oil and only added about 11-12 oz of pumpkin which I wanted to use up. I realized after the fact that I could have left out the extra flour since I didn't have as much pumpkin as the recipe called for, but it was too late because I had mixed the dry ingredients. Instead of frosting I added in a cup of Nestle Holiday Chips (red and green vanilla chips mixed with chocolate chips). I didn't want puffy cookies, so I dipped a glass in sugar and flattened the cookies until the glass was pressing the chips into the cookie sheets. I used a leveled off #40 scoop (.75 oz) and got 45 cookies. They were done baking at 11 minutes.
Preheat oven to 350°F.
Combine cake mix, oats, and spices; set aside.
In another bowl, beat egg, pumpkin, and oil.
Add dry ingredients, stirring until just moistened.
Drop by spoonfuls onto greased baking sheet, flattened slightly by back of spoon.
Bake for 18 minutes or until edges are lightly browned.
Cool on wire rack.
---Frosting---.
Mix together the powdered sugar, orange peel, and orange juice.
Add additional juice if thinner consistency is desired.
Frost completely cooled cookies.
Store in airtight container.