Quick Pizza With Olives and Anchovies
ImPat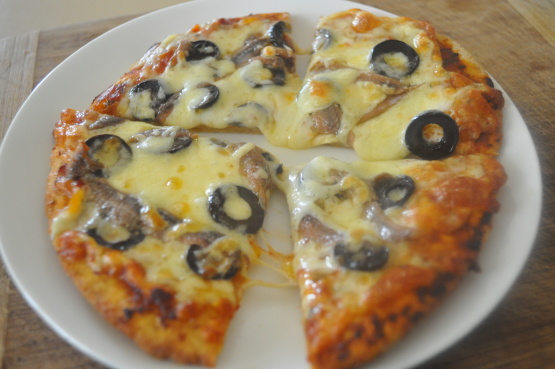 You will end up with 2 bases here, the second can be frozen. Cover it wil cling film and then cook from frozen.

Top Review by ImPat
I made this as an individual pizza for the DM for her lunch using a wholemeal pizza bread as the base instead of the mix in the recipe and baked on a rack with ingredients suggested (scaled back) and the DM gobbled up the lot (she quite oftens leaves 1/4 if not 1/2 so this is definately a winner) and even more of a winner since she went on and ate all her dinner and dessert (we have a real problem getting her to eat let alone healthy) Thank you katew, made for Make My Recipe Edition 16.
Make bread dough according to pack instructions.
Knead for 5 minutes till dough feels smooth and springy.
Divide into two, roll out on lightly floured surface.
Make 2 large thin circles.
Lift these onto 2 baking sheets.
Spoon on pizza topping, spread thinly with back of spoon.
Top with cheese, anchovies and olives, drizzle oil over top.
Bake for 20 minutes at 190 C or temp suggested on bread pack.