gertc96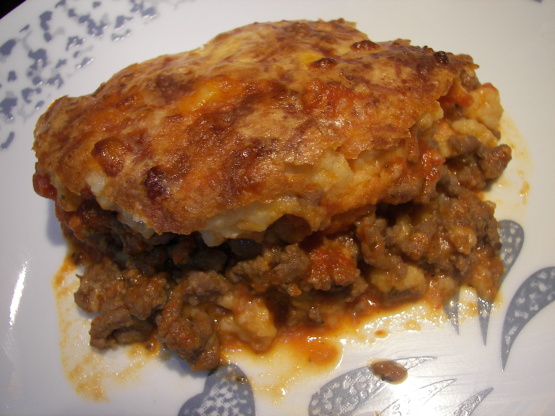 Since this is pizza after all, feel free to add any of your normal toppings. Pepperoni, sausage, green peppers, onions, ham or even chicken. Per request from reviews, feel free to add a bit of garlic or other italian spices for more zip.

Top Review by Nasseh
I think that you have the measurements for the Bisquick mix & milk switched. I started out using 1 cup of mix & 1 cup of milk & it was still a little runny. I would have hate to seen it with 1 1/2 cups of milk. Other than that it had a good taste. But I also thought that it was a little bland tasting even with me adding some garlic powder & onion powder to the hamburger while browning it. I wish I could have rated it higher.
Place beef in an ungreased 8x8 inch baking pan.
Top with pizza sauce and cheese.
Combine biscuit mix, milk and eggs in a mixing bowl.
Stir well until smooth.
Pour over cheese and bake at 400 degrees for 30-35 minutes.