flower7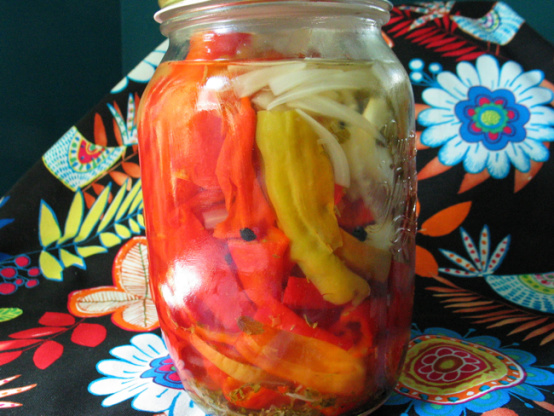 The original recipe calls for shishito peppers. They have a little more bite than bell peppers, but are not as hot as chilis. If you can find them, go ahead and use them.

I actually grew Shishitos this year so when I saw this recipe I thought I'd try it out but I did change a few things in the process of making it. I didn't have enough Shishitos so added some of the Jimmy Nardello peppers I also grew (another sweet pepper variety). 3/4 lb peppers, after cleaning, seemed like just enough for a quart jar. I used a smaller amount of onion (about 1/3 cup) and I knew that the amounts of liquid called for would be too much for my quart jar so reduced it to 1 1/4 c vinegar and 1 3/4+2T water. Left out the sugar as I do not like sweet in my pickles and increased the salt to 3 tsp. The rest was left as listed (though I skipped the hot chiles). Oh, and I skipped step 3, and instead just poured the hot liquid over the raw peppers and sealed. After sitting for a couple days in the fridge, they are perfect for my taste; a little crunchy still but nicely pickled. Though I changed it a bit, I wouldn't have thought to do this with them otherwise so thanks for the base recipe and idea!
Cut peppers into 1/2 inch strips, lengthwise.
In a medium saucepan, simmer the vinegar, 2 cups of water, garlic, salt, sugar, oregano, peppercorns, onion, and dried chilies, if using, until fragrant, about 3 or 4 minutes.
Blanch peppers in a pot of boiling water until they begin to soften and lose a little color, about 2 to 3 minutes; drain peppers and pat dry.
Place peppers, in a nonreactive container or canning jars, pour vinegar mixture over them to cover; seal tightly and refrigerate for at least 8 hours.