Quick Pecan Sour Cream Coffee Cake
diner524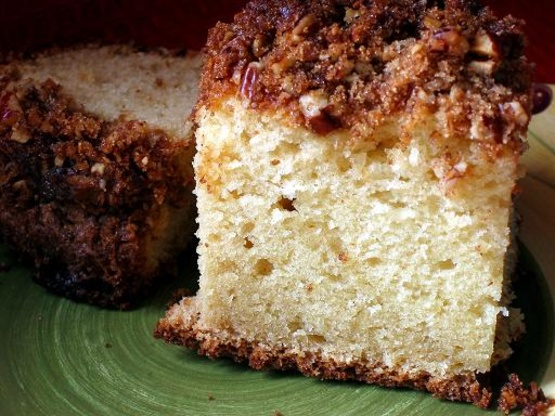 Perfect with a cup of coffee! I always make two of these and freeze one, so I have one ready for unexpected guests, just remove from freezer and defrost in your microwave under the defrost cycle for a few minutes, slice then serve, this cake freezes excellent, and it's buttery moist delicious!

This is one of my favourite cakes. I have made this so many times and it's always a pleasure to serve this treat to guests:-)! Ofcourse, I always substitute the sour cream with low-fat plain yogurt in this recipe. Thanks for posting this! I sure hope you get many good reviews for this one!
Set oven to 350 degrees F.
Butter a 9 x 9-inch square baking pan (or use an 11 x 7-inch pan).
For the toppping; In a medium bowl, combine the brown sugar, flour and cinnamon.
Add in cold butter, then using your finger tips, pinch the ingredients together into a sandy/crumbly mixture; add in the pecans, and mix.
For the cake; cream the butter with sugar and vanilla until light and fluffy; add in eggs, beat well.
Sift together the flour, baking soda, baking powder and salt; add to the creamed mixture, alternating with the sour cream.
Mix in the raisins.
Transfer the batter to prepared baking pan.
Sprinkle the topping mixture evenly over the batter.
Bake for 40-45 minutes, or until cake tests done.
Let cool 10 minutes in the pan.
Serve in squares.