Tee Lee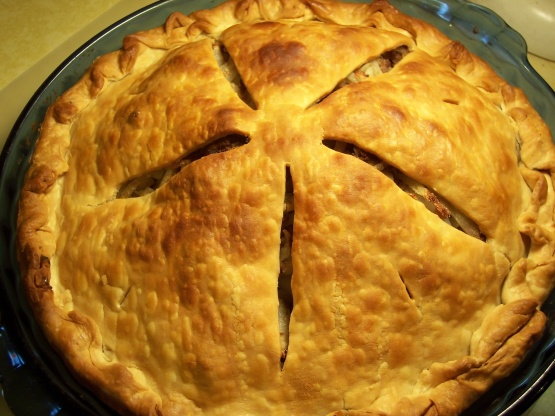 This is my much quickened version of a pasty, put into pie form. For those who are unfamiliar with pasties, they are a pastry filled with meat, potatoes and onions, then folded into a half-circle. I live in an old mining town and these are still popular from the old days when the men would take them in their lunch boxes.

WOW...What a great idea! I just finished making them the old fashioned way! Wish I saw this before I did all that work!! Thanks for the Great idea!!!
Preheat oven to 450°F.
Place crust in an 8-inch pie pan and press into bottom of pan.
In a large bowl, thoroughly combine hash browns, ground beef, shredded onion, garlic, salt and pepper, and carrots (if using).
Place filling into the pie pan and top with second pie crust.
Seal edges of crusts together and cut vents into the top crust.
Bake for 50-60 minutes or until meat is cooked through (I use a meat thermometer).
Serve topped with beef gravy or ketchup, if desired.
***TIP - to prevent the edges of the pie crust from browning to quickly, wrap aluminum foil around the edges of the pie before baking, then remove with 20 minutes left.