DuChick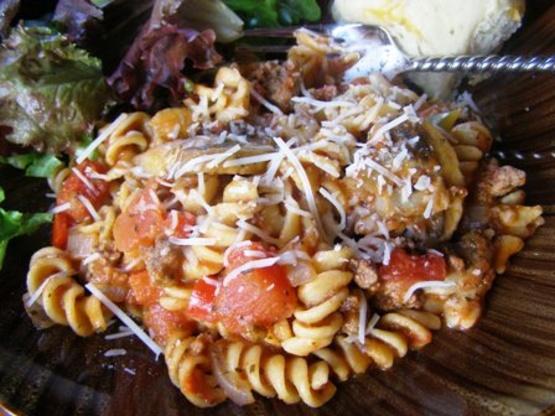 This is my own recipe for a quick pasta meal. I love to use fusili, or rotini, but elbow or penne is good too. This is one of my favourite meals, real comfort food!

We enjoyed this weeknight meal, and almost wish I had a need to brown bag my lunch already. This makes a LOT! I even cut down on the amounts since I had just one lb. of hamburger. Using extra lean meat, quality spaghetti sauce and whole wheat pasta makes this a fairly healthy meal, Thanks Hag chef! MERP'd for Bargain Basement.
Bring a large pot of water to boil, for the pasta.
Scramble fry the ground beef in olive oil, with garlic, salt and pepper.
Add the onions, peppers and mushrooms, and saute until onion is soft.
Add the spaghetti sauce, diced tomatoes, parlsey and basil.
Simmer for 20 minutes, or up to 1 hour.
Meanwhile, cook the pasta according to package directions.
Drain.
Return to large pot.
Stir the sauce into the pasta, or serve separately.
Serve with freshly grated parmesan, mozzarella or cheddar cheese, homemade biscuits and a green salad.
Variation: For a beef stroganoff type of dish, use 2 cans of mushroom soup and 1 can of milk instead of the tomatoes and spaghetti sauce, and 1 package of egg noodles, instead of pasta.
Kids love this!