Quick Orange Chicken Breasts
HisPixie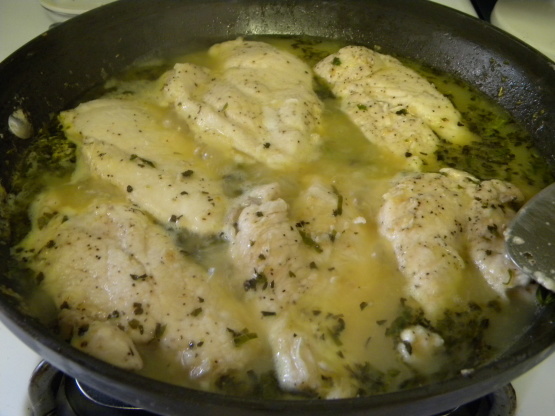 Quick and easy, but a very nice flavour. Serve with rice or pasta and the whole meal can be ready in less than 30 minutes. Adapted from "Fast & Easy Cooking" by Johanna Burkhard.

We are on a lower fat, healthier, eat at home diet and I decided to make this tonight. It was fabulous! I lowered the fat even more by spraying butter flavored Pam and sauteing the chicken and I also used fat free chicken broth. I left out the sugar like Moxie did and also used Fresh basil as fresh herbs pack alot of flavor and you wont miss the fat as much. This was wonderful! DH didn't know he was eating fat free! I served it with over steamed rice with the sauce poured over it and steamed green beans. Thanks for a great lowfat recipe!
Carefully slice each chicken breast in half lengthwise so that you have two thin slices (this helps it cook faster).
Place flour, salt and pepper in a bowl.
Roll chicken pieces in flour mixture, shaking off excess flour.
Melt butter over medium-high heat in large nonstick frying pan.
Add chicken.
Cook 2 minutes on each side, until light golden.
Remove chicken.
Reduce heat to medium.
Add broth, orange juice, garlic, Italian herbs and sugar.
Bring to a boil, then simmer for 1 minute or until liquid has reduced a bit.
Add salt and pepper to taste.
Return chicken to frying pan.
Reduce heat and cover.
Simmer for 5 minutes or until chicken is no longer pink inside and sauce has thickened slightly.
Serve garnished with parsley.
Good served with rice.