Quick or Instant "cheesecake"
Boomette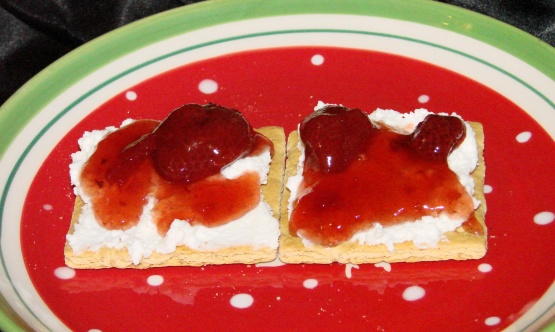 We serve these to our resident's either as a snack or as a dessert. I introduced these to our "cooking class" about 2 or 3 years ago. We were making them with reduced-fat cream cheese and their choice of all-fruit jams or preserves -- and each time they chose guava or orange or thirdly, strawberry as long as it didn't have pieces! I just found a healthy version of this on Eating Well Newsletter.
This is so yummy. I was looking recipes to use ricotta and I found yours. I'm so glad I found it. It's a great snack to do when I have a craving for sweet. And also I used reduced-sugar strawberry jam. And light ricotta. Thanks Manami :) Made for Bargain basement tag game
Spread each graham cracker with 1 tablespoon part-skim ricotta cheese and 2 teaspoons jam.