Quick 'n Easy Vietnamese Chicken Salad
teresas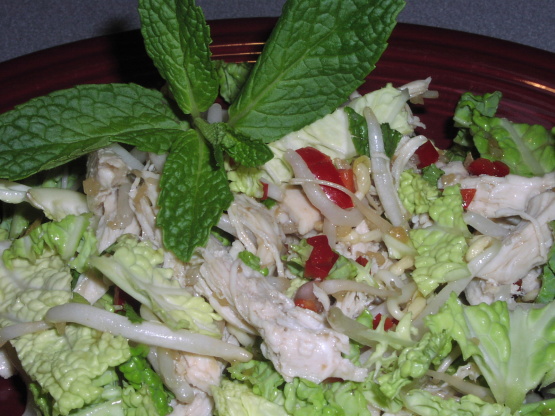 This light and refreshing Vietnamese Chicken Salad is really quick to make. It can be eaten alone as a light meal or served as a main meal, over steamed rice. Because I don't like my food too spicy, I omit the chilli, but I've left it in the ingredients listed. Some will no doubt want to increase the spiciness. When serving it to others, I've doubled the recipe and made two versions: one spicy, one not. And been very careful not to mix them up, by putting them in colour-coded serving bowls! Both versions have been eaten with enthusiasm, both by those who are familiar with Vietnamese cuisine and those who are not. Adapted from Lulu Grimes' book "Food: buy it fresh: Cook: cook it simply; Eat: eat it now". If you are serving this salad to guests, and planning ahead, it's worth going to an Asian greengrocer's and buying the authentic ingredients.

What a wonderful refreshing salad. I made as posted with the exception of cooking the bean sprouts I used raw. Loved the flavor with the mint. I couldn't locate Vietnamese mint (OK, I didn't look for it) so used regular mint. This was quick and easy. Thanks for posting. :)
Mix together the lime juice, fish sauce, sugar, ginger, chilli, garlic and shallots (or red onion).
Plunge the bean sprouts into boiling water for 10 seconds, drain them and rinse under cold water to stop them from cooking any further.
Mix the bean sprouts with the Chinese cabbage, Vietnamese mint and chicken.
Pour the dressing over the salad and toss all the ingredients together until they are well combined.
Serve as a light meal, or as a main dish over steamed rice.