Quick n Easy Quiche Crust
Smellyson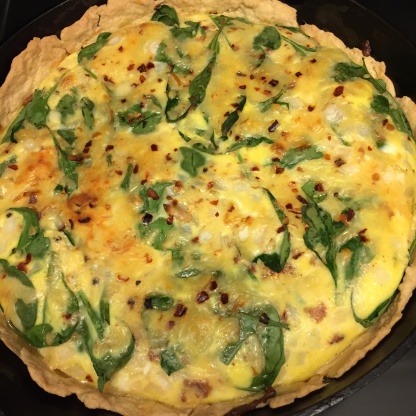 Need a fast, flaky crust? This delicious recipe is so much cheaper than ready-made pie crusts! High altitude tested.

Top Review by dougdo
Love this crust! It's a simple and very easy to make recipe. One thing that appealed to me when I first read the recipe is that it said just to press the crust into the pan, I thought great, no messy rolling! But when I tried that the first two times I used the recipe the results were disappointing; hard to get a consistent crust and the crust ended up a little tough. So I've tried rolling it since and the results are much better. And the bonus is that it rolls out much easier than a butter crust; it's not so sticky.
Mix flour and salt with fork.
Beat oil and water with whisk or fork to thicken.
Pour into flour and mix with fork.
Press into 9" pie crust.
Fill with quiche mixture and bake at 400F until done.
NOTES: I've never made this with canola oil.
You can double the recipe, divide dough in half, and roll out into a pair of rounds for two-crust pies.
This recipe is not suitable for baked pie crust shells.
It makes a nice, flaky crust that's suitable for everyday use.