Quick 'n' Crunchy Granola
kindcook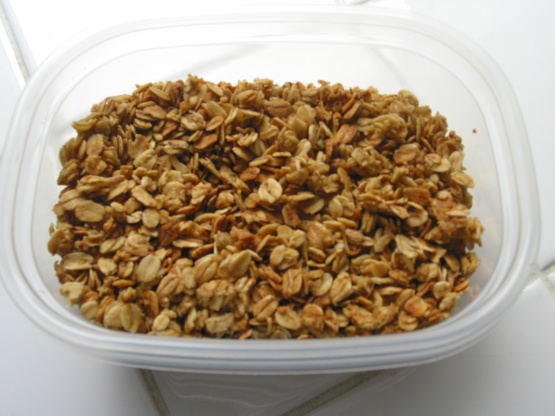 Granola is my family's favorite cereal but we rarely buy it from the store because it's so expensive. So I decided to try and make my own. We will never buy granola from the store again! This is so easy and delicious; everyone should try it! Some of my family members mix in raisins or almonds just before eating (no need to bake them.) But remember you MUST STIR the granola after it bakes for 10 minutes. I didn't read the recipe carefully and burnt my first batch. Enjoy.;)

This is so good! I used unsalted butter instead of margarine and added 1/2 cup of coconut.
Melt butter in microwave.
Heat honey in microwave for 45 seconds. Combine all ingredients in a large bowl.
Pour into a 15 x 10 baking pan and spread evenly.
Bake at 350 for 20 minutes, stirring after the first 10 minutes.
Cool completely.
Store in an air tight container for up to one week.