mliss29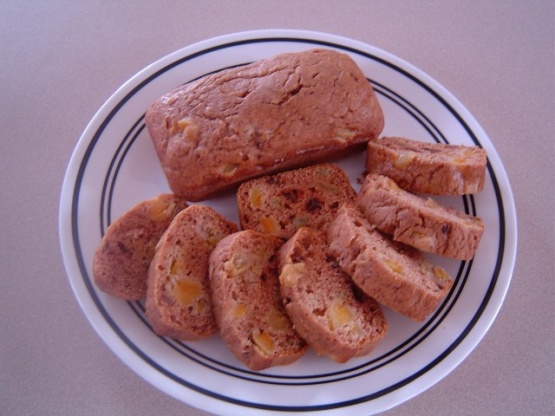 It's sooo moist - as the title says. The fruit I used were dried papaya, apricots, cranberries, and raisins. Deee-lish! The applesauce makes it moist. However, mine didn't rise that high at all. I did omit the salt and changed the orgional recipe's all-purpose to whole-wheat flour, but I don't think that caused it. It looks like biscotti when sliced. That sounds like a good idea...cut it up at the end and put it back in the oven. I should try that...or just keep as is for a little snack cake. Consider it a delicious fruit cake.

This is the first thing I have ever baked in my entire life and I absolutely love it. You won't confuse it for a high-fat bread but the taste is very good and the fruit is delicious. It took about 38-40 minutes to bake. I added whole eggs, baking powder and baking soda, salt, real sugar, molasses, and lemon juice. It doesn't rise that much but the smell is wonderful and it tasted so good I just ate three slices fresh from the oven. Next time I make this I am going to add nuts as well. Walnuts would go wonderfully with this. I could see myself making this on a weekly or bi-weekly basis. Even with the real sugar (only 34 grams of sugar or 3 tablespoons) and the whole eggs it is very healthy.
Spray 9x5 inch loaf pan with non stick pan spray.
Dust lightly with flour.
Combine raisins with water.
Set aside for 30 minutes.
Preheat oven to 350 degrees F.
Combine dry ingredients in a large bowl.
Add raisins and liquid, egg, vanilla and unsweetened applesauce.
Mix until just moistened.
Pour into prepared pan.
Bake 40 to 45 minutes or until golden brown and firm to touch.
Let stand for 5 minutes.
Cool on rack.
Serve warm or slice and toast.