Quick Mix Kale Salad (Raw Recipe)
jenne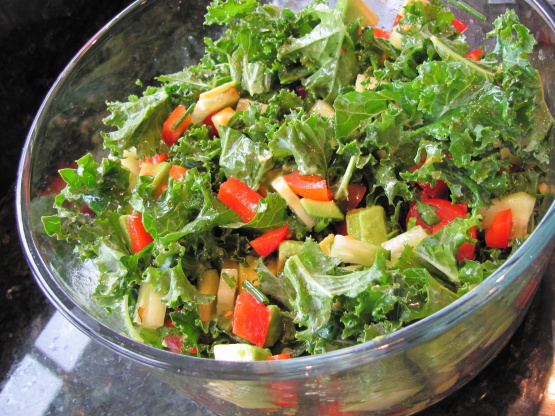 Recipe from www.rawguru.com. I loved it, but hubby wasn't fond of the texture of the kale. . .so I am going to throw in the recommendation to use your favorite lettuce in this recipe in place of the kale. I also let my salad marinate for about 2 hours which was great (and truly softened up the kale quite a bit).

Awesome salad! I made this last night but could not wait for hours until I devoured this! I did have some left over which I refrigerated for lunch today! It IS even better later! Thank you for sharing this yummy way to enjoy kale!
Salad

1

cucumber (unpeeled and diced fine)
1⁄2 red bell pepper (diced fine or cut into thin strips)

1

avocado (chopped)

1

tomatoes (chopped)
1⁄2 cup radicchio (chopped, I leave this out)

10

stalks kale (julienned)

Dressing

1

lemon, juice of (I used 1.5 lemons)
1 1⁄2 teaspoons agave nectar (I add about a Tbsp)

2

tablespoons olive oil

1

teaspoon hemp seed oil (I sometimes sub this for 1/2 tsp pumpkin seed oil and 1/2 tsp olive oil)

2

garlic cloves (optional)
1⁄2 teaspoon salt (to taste)
1⁄4 teaspoon lemon pepper
Toss together salad ingredients.
Blend dressing ingredients until smooth. Pour over the salad and let it sit for 20 minutes at room temperature before eating, letting the flavors develop! (As previously stated, I leave mine out for 2-3 hours and then it's WONDERFUL).
Garnish with fresh herbs.