Juenessa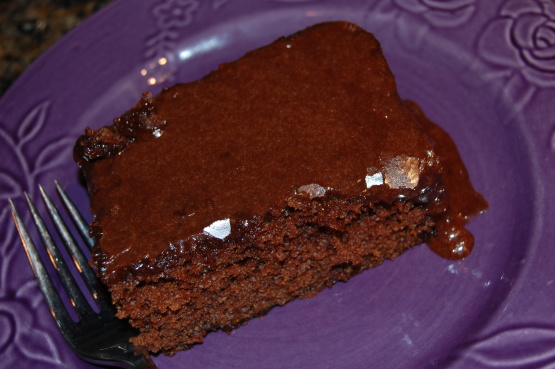 This cake is so good, no need to use an electric mixer for this it's all mixed by hand in a matter of minutes! This cake is so moist and so chocolaty. If you are a cinnamon lover add in 1 teaspoon. You will love the simplicity, texture and taste of this cake!

Strange but delicious! I followed the directions exactly. I thought the ratio of liquid was a bit too high, but went out on a limb. My cake took about 45 minutes in our electric oven. It had a texture very similar to pudding cake and was really good warm. I didn't bother to ice it. Even cold, it is good--sort of a brownie like affair. Was sorry I didn't have any vanilla ice cream to go with it--had to make do with milk!!
Set oven to 350°.
Set oven rack to second-lowest position.
Butter a 13 x 9-inch baking pan.
In a large bowl sift together both sugars, flour, cocoa powder, baking soda, salt and cinnamon; set aside.
In another bowl mix/whisk together the melted butter, buttermilk, oil, water, eggs and vanilla; add to the dry ingredients; mix well to combine until you have a smooth batter (I use a large whisk for mixing).
Add in chocolate chips and nuts (if using).
Pour into prepared baking dish.
Bake for about 25-30 minutes or until cake tests done.
Cool completely before frosting.
**NOTE** if using nuts reduce amount of chocolate chips to 1/2 cup.