Quick Kidney Bean Soup With Savoy Cabbage
Entered for safe-keeping for ZWT. By Ana Patuleia Ortins from "Portuguese Homestyle Cooking". Per Ms. Ortins, "While you can use canned beans in a pinch, keep a watch on the sodium level. If time permits, use the less expensive and healthier method of presoaking dried legumes overnight, rinsing them then cooking them in unsalted water or broth and set aside until needed. You can do this a day or two ahead.. To have presoaked beans cook in your soup, add salt only towards the end when the beans are tender. Salting too early will result in tough beans."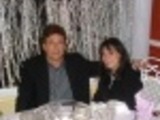 We really enjoyed this hearty soup. I used canned beans (1 can dark red kidney beans and 1 can light red kidney beans) and 1 teaspoon of salt. I had to substitute ditalini for the small shell pasta, but it's also a small size. While I wouldn't call this soup "quick" (1-3/4 hours), I would call it very tasty! It also came out quick thick and was very filling. Made for ZWT8.
In a 4-quart pot, combine the water with the cabbage, beans, and olive oil. Cover and bring to a boil over medium-high heat.
Reduce the heat to medium-low and with an occasional stir, simmer the soup for 40 minutes until the beans are easily mashed with a fork.
Using the back of a long-handled fork or spoon, mash some of the beans against the inside of the pot. (You can also remove about ½ cup to a dish and mash them then scoop them back into the pot.).
Return the soup to a boil and add the pasta, rice and salt. Reduce the heat and continue to simmer, covered for 15 minutes then toss in the carrots, green beans and pepper.
Simmer 10 more minutes until the vegetables are tender to your taste.
Serve with some crusty bread.