Prep 15 mins
Cook 40 mins
I got this off a recipe card my Mom gave me. Yum!
Directions
Preheat oven to 350.
Spray a 9x5 loaf pan with cooking spray.
In a large bowl combine first 7 ingredients (and sugar if using) and mix well.
In a small bowl whisk together milk, honey and egg.
Add milk mixture to flour mixture, stir together.
Spoon batter into prepared pan.
Bake until a toothpick comes out clean in the center, about 50 minutes in my oven.
Place pan on wire rack to cool for 10 minutes, then turn loaf out onto rack to cool completely.
To make a glaze for the bread use 3 tablespoons honey, 2 tablespoons margarine and 2 teaspoons packed brown sugar. Microwave on HIGH until melted, then spoon over warm bread.
Most Helpful
This recipe was really good, and made a nice tasty treat. I unfortunately undercooked mine though, so will probably leave it in the oven for a little longer next time

This is a nice, pleasantly spiced bread that is great with tea. I made this exactly as posted, using the brown sugar, but no glaze. I checked the bread after 45 minutes and it was done ( a little too done, I'm afraid). Even with the sugar, this is not an overly sweet bread. Thanks for sharing this unique recipe. Made for Fall PAC 2010.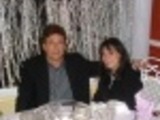 This is one of my favorite recipes. I've made it several times, and it's perfect for fall.