Quick Homemade Tomato Soup
Dwynnie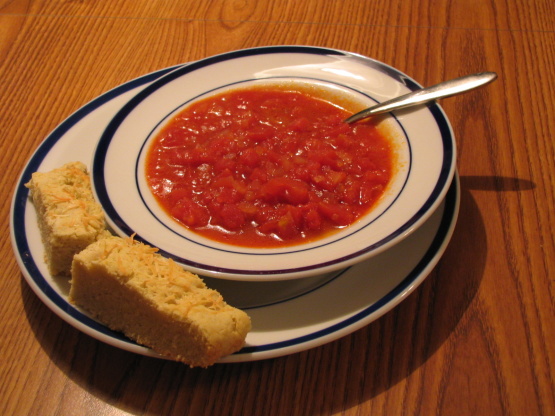 A quick soup that can go from stove to table in less than half an hour. A regular at my house on weeknights. Many variations can be had by adding different spices and flavours.

I will never look at canned tomato soup the same way again! This soup is wonderful, easy to make, and so many ways to suit this to your families taste. Used a 29 ounce can of petite diced tomatoes, chicken broth instead of water, kosher salt, and fresh ground pepper. I dont have an immersion blender so I simmered about 15 minutes and the tomatoes broke down but still had enough texture to get a bite of tomato here and there. The onions are sweet and so good. I didnt use any garnish, the soup is all I wanted to taste! Thank you so much for posting this recipe Chez Desiree.
Heat oil in soup pot over medium heat.
Add onion and allow to sweat for 5-6 minutes.
Add can of tomatoes, water, brown sugar, salt and pepper.
Check for personal taste on salt and pepper and add more if you wish.
Bring to boil and turn down.
** At this time I use my immersion blender to puree the soup a bit. If you don't have one, you can pop it in your regular blender, of if you like it chunky, do not do this step**.
Allow to simmer for 5 minutes.
Garnish with sour cream, chives or croutons.