Quick Holiday Cranberry Biscuits
Debbwl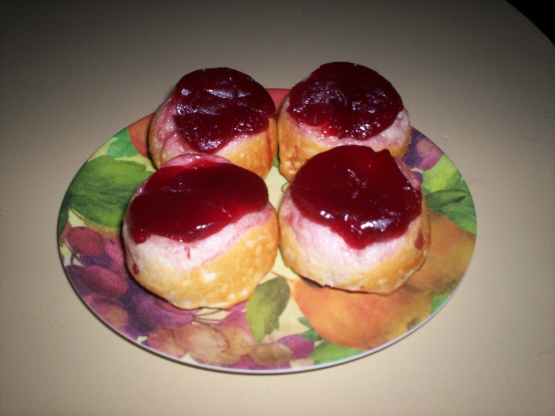 Here's a quick accompaniment for turkey or chicken soup. It a good way to use up leftover cranberry sauce from Thanksgiving or Christmas dinner. From Jean Pare's Company's Coming Soups & Sandwiches.

OUTSTANDINGLY EASY TO MAKE & VERY TASTY, TOO! I made these with the canned whole berry cranberry sauce, but another time I'd really enjoy making these with a thick, homemade cranberry sauce! Definitely a keeper whichever way they're made! [Tagged & made in Please Review My Recipe]
Grease medium sized muffin tin.
Put 1 tbsp of the cranberry sauce into each cup.
Place biscuit into each cup.
Bake at 425F for 10 minutes or until nicely browned.