Quick Herb and Cream Cheese Pesto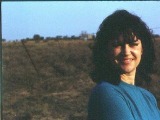 This is a super spread on hot toast, fresh bread or pasta. It's really worth it to make it when you can get fresh herbs -- it's really all about the herbs! Put in your processor, and whizz! Quantities can vary. I found it quite hard to measure because I simply use handfuls ... Prep time is a rough guess for preparing the herbs, assembling the ingredients, and processing.
Directions
Remove herb leaves from stems if necessary.
Put all the ingredients in a food processor and whizz until a fine paste forms and all the herbs have been incorporated.
(You could add chopped sundried tomatoes if you do not have enough fresh herbs).
Scrape into a small container. Spread on hot toast, fresh bread, or pasta.
Reviews
Most Helpful
I loved this. I made a roasted butternut squash soup for lunch and served this on toasted baguette. Next I want to try it on hot pasta because I think it will go really nicely that way
This was interesting. I used basil, flat leaf parsley and green onion. I was a little surprised at the sesame seed and herb ratio to the cream cheese. I think it would be fine, used as a pesto in soup or pasta sauce, however, I wanted a spread for toast, mainly, so increased the cream cheese by quite a lot. I want to try this with other herbs in season. Thank you for posting a recipe with so many possibilities.