gailanng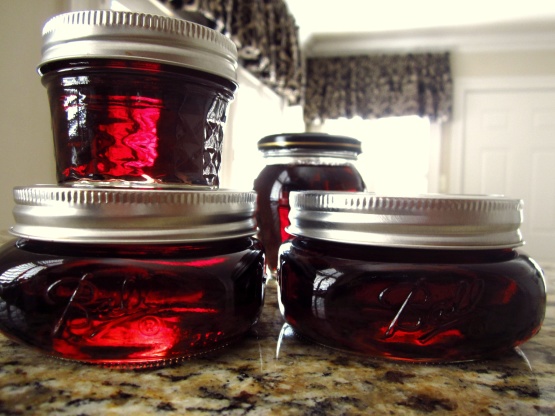 From The Southern Living Cookbook. A very simple jelly using bottled grape juice. Goes together in no time, so it's perfect for last minute gift ideas or beginning jelly makers. Uses hot water bath canning.
I made this jelly yesterday. I followed the directions exactly. After one minute of hard boiling, I checked the temp of the jelly and it was 220° which is the proper temp. So I skimmed the foam, processed in boiling canned bath for 5 minutes. But it still hasn't gelled properly. That's why I have it 4 stars instead of 5. Now my question is, will it continue to gel? I read somewhere it can take up to two weeks. I'm hoping that I didn't do something wrong and it just needs extra time to set properly. Oh, by the way, the process was easy, and the flavor is really good. So thank you for sharing. Once I find out if it gelled properly, I'll update my rating to 5 stars, as this recipe is a keeper!
2

cups bottled unsweetened grape juice
3 1⁄2 cups sugar

1

(3 ounce) package liquid pectin
Combine grape juice and sugar in a large Dutch Oven; bring to a boil, stirring constantly.
Stir in pectin; boil 1 minute, stirring constantly.
Remove from heat, and skim off foam with a metal spoon.
Quickly pour hot jelly into hot sterilized jars, leaving 1/2 inch headspace. Wipe jar rims. Cover at once with metal lids and screw on bands. Process in boiling water bath 5 minutes.