Prep 10 mins
Cook 15 mins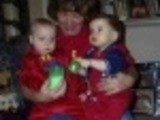 This is a very quick meal to prepare! It will give you a few extra minutes on a busy day. It includes your meat, rice and vegies all in one dish. This recipe is for 2 people but can be doubled to serve four.
Directions
Prepare rice according to package directions.
Heat oil in meuium skillet over high heat and stir-fry the beef in it until browned.
Add the rice mixture and remaining ingredients, cooking until thoroughly heated, stirring occasionally.
Most Helpful
This was an awesome fast dish! I am always looking for fast dishes to prepare when I get home so late from work. I did have to use Birds Eye's Rice Pilaf in Herbed Butter sauce instead because I could not get Green Giant and it was so delicious for a fast meal. Thanks Trisha W