Quick Gluten Free Cinnamon Rolls
Bellinda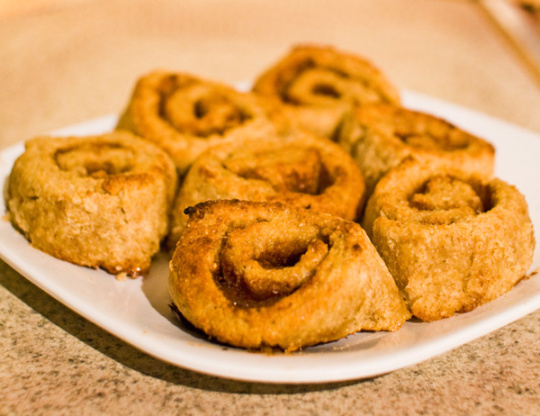 The idea to make these popped into my mind when I made **Jubes** Quick Gluten Free Scones #220200 for the first time. Instead of cutting out scones I rolled the flattened dough and thought that actually I could have filled it. So I made a second batch of dough and made up my own version of cinnamon roll filling. I really liked that they were not overly sweet as the dough is not sweetened. As usual, I used rice syrup, but will suggest honey which might be slightly sweeter. Instead of the pine nuts you can of course use any other nut you like. I thought about pecans and maple syrup for the filling - if anyone feels like trying that, please tell me how it turned out!

These were great. A bit difficult to roll up, but I guess it depends on what kind of mix you use. They tasted great. My kids loved them too. I think we liked them so much because they weren't as disgustingly sweet as cinnamon rolls usually are. They were just right. Like a little bread roll mixed with a cinnamon roll. Perfect with coffee. Thanks for the recipe :)
2

cups gluten-free bread mix
2⁄3 cup whipping cream

2

tablespoons butter, softened

2

tablespoons honey

1

teaspoon cinnamon

2

tablespoons pine nuts, chopped
Preheat oven to 200 ° Celsius.
Mix gluten-free bread flour mix and cream lightly. You should just barely nead to get a soft dough. If it's too crumbly, add water by tablespoons until the consistency is so that you can just form a ball of dough to roll out.
Roll the dough out between two sheets of nonstick baking paper into a rectangle as thinly as possible. I managed about 1/2 inch thickness.
Cream together butter, honey and cinnamon.
Gently brush the mixture on the dough, maybe using a knife or your fingers. If the mass is too solid to brush, lightly melt it in a water bath so that it becomes softer but not liquid.
Sprinkle with chopped pine nuts.
Carefully roll the dough into a log.
Using a sharp knife dusted with some rice flour, cut it into 14 rolls.
If the filling is too runny, cover the log with cling-wrap and let it settle in the fridge for some minutes, then cut into rolls.
Place rolls on a baking tray layered with baking paper. As **Jubes** suggests, put them together close to assist rising.
Brush the top of the rolls with milk.
Bake for about 10 minutes or until they're done.
Enjoy!