Quick Fruit and Nut Fudge
Noo8820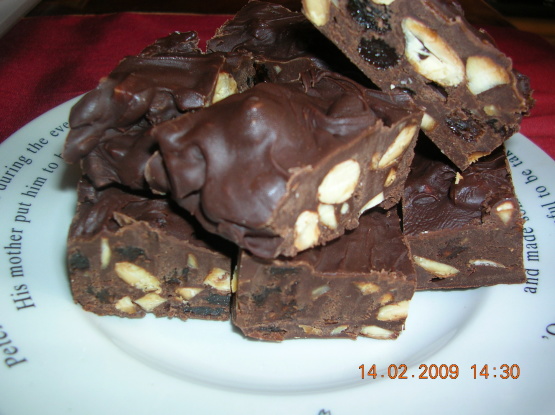 Posting for safe keeping Cooking time has chill time included and is approximate

Very nice! I use unsweetened Bakers chocolate. A few less calories. Add a tsp of vanilla as well. Otherwise, very nice. As Noo said, can sure change it up for variety. Thanks.
In bowl over saucepan of hot (not boiling) water, melt chocolate with condensed milk, stirring frequently, until smooth. Stir in vanilla. Stir in cranberries and pecans.
Pour into foil-lined 8-inch (2 L) square cake pan; smooth top. Refrigerate for about 3 hours or until firm.
Turn out onto cutting board; peel off foil. Cut into squares. (Make-ahead: Layer between waxed paper in airtight container and refrigerate for up to 2 weeks.).
Additional Information.
Tip: To toast nuts, bake on baking sheet in 350°F (180°C) oven for 8 to 10 minutes or until fragrant and golden.