Quick Fix Italian Chicken & Dumplings
KateL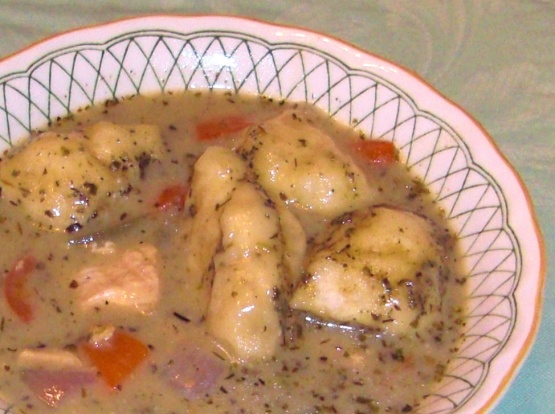 This snappy recipe updates a classic and makes you glad you have leftovers. Serving with a tossed salad you have a complete meal.

Top Review by Ceezie
What a great dish! We loved it and so did the neighbors we took it to. I had to make a few adaptions based on personal taste and what I had on hand. I used caramelized onions and pickled red peppers instead of red onion, red and green pepper. I also subbed 1 cup spaghetti sauce for the cherry tomatoes. SInce these are already soft I didn't microwave anything I just dumped it in the pan. I didn't have Italian seasoning so instead I used McCormick Grill Mates Vegetable seasoning and garlic pepper. I also make bisquick buttermilk dumplings. Other then that (lol) I followed the recipe. This will be made again - it was great. The only change I would make is to use cubbed chicken breasts next time. Oh or rotisserie chicken! YUM
In large pot bring the chicken stock, soup, and cream to a boil.
Dice both peppers and onion. Using a mini chopper makes this a breeze. Spray a bowl with cooking spray, add peppers, onions and tomatoes, and cook to soften in the microwave. Approx 2 minutes.
Add softened veggies and cooked chicken to pot of boiling stock. Stir in spices.
Drop biscuit quarters into pot. Do not stir. Let things return to boil, cook 10 minutes uncovered. Reduce heat to simmer, add lid and cook additional 7 minutes or until biscuits are done.
Avoid lifting the lid during the final cook time and don't over stir. Stirring will tear apart the dumplings.
Enjoy!