Quick, Fast, and Easy Rice and Veggies for Dining on a $
Jubes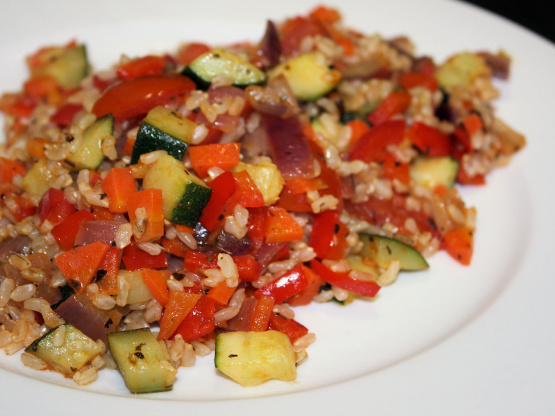 Zucchini's multiply like rabbits and need to be used or stored for the winter. What better way than to make a mix of healthy veggies and brown rice to accompany any meal entrée. This is fast and easy, faster yet if you use instant brown rice. The kids will get those green veggies you want them too and you get the accolades for a flavorful side dish. Any other veggie you would like to add in, please do. I kept this simple for the contest.

This was such an excellent recipe. I used zucchini, mushrooms, red onion & sliced carrots as my veggies. The seasoning amount was right on (I cut the recipe in half but used 1/2 the amount of seasoning). My brown rice was already cooked in low sodium veggie broth. I topped the dish w/ a few tbsp of low fat mozzarella cheese & a small amount of grated Parmesan. Thank you for sharing this dish!
Cook brown rice in 2 cups water with bouillon cubes set aside kept warm.
Sauté all vegetables and spices in oil until el dente, mix in rice folding over.
Serve warm with another Dining on a Dollar entrée.