Quick, Easy & Tasty Curried Crab
Bergy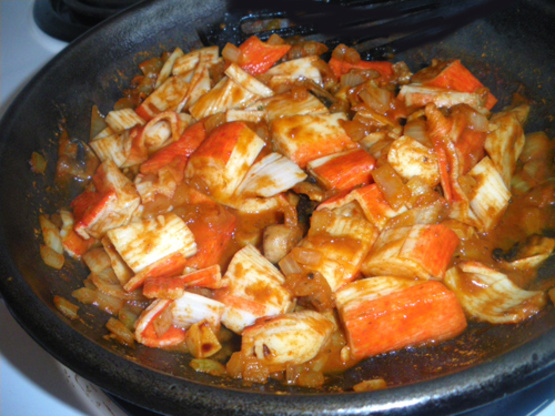 This is so easy - I used Thai Kitchen red curyy paste and flaked articicial crab. Use your own favorites. If you want more sauce just add more chicken stock and curry paste. This recipe is only medium hot but for some this will be HOT. Adjust your curry to your liking - start off with 2 tsp and keep adding.. Serve over rice or noodles. If you make more sauce thicken witn 1 tbsp of corn starch.
Spray a pot with Pam.
Add garlic & onions, cook over medium heat until onion is lightly browned (apprx 5 minutes).
Pour in the stock.
Stir in curry paste, simmer for 5 minutes.
Add crab and heat for apprx 2minutes. Give it astir or two.
Serve over rice.